This is an introductory graphics user interface course for Java. It includes the Java Foundation Class (JFC), AWT, and Swing for the complete basic GUI programming using Java.
This course intended for student who has finished Java Programming Essentials and Java Object-Oriented Programming courses. These students are seeking for learning more advanced programming for windows programming on desktop, network programming, database design. web-site construction and many other advanced topics.
GUI programming plays an critical role in the programming education. It opens up a whole path of advanced programming. Most of the real-world problems nowadays will require more user-friendly graphics user interface.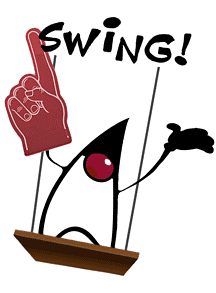 In this course, we will start from the review of user interface development. Then, it is followed by the basic GUI programming with Swing/AWT Java Foundation class. For a GUI framework, there are several important topics:
(1) Structural Design: Window, Dialog, Frame, Main Application, Containers, Components
(2) Canvas and Painting Device Design: graphics canvas and drawing design.
(3) Event-Driven Programming: event source, even target, even handlers and other topics.
(4) GUI Styles and Fashion: GUI needs to be user-friendly to attract user to use.
(5) Design Patterns: design patterns will be briefly discussed.
(6) Database/Networking: databases will be briefly discussed.
(7) Multi-threading control: multi-threading is a separate topic in Java language.
(8) Animation control: AWT/Swing are lack of this feature. It won't be discussed.
In this course, we will provide lectures, quizzes, lab projects and many external links for more information. It is a well-designed complete course for AWT/Swing GUI programming.
Java Foundation Class: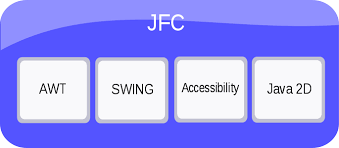 Event-Driven Programming for GUI Programming: